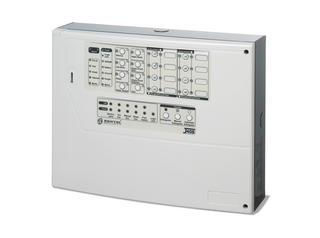 Designed and made according to EN54 and EN12094-1 standards (with J400-EXT extinguishment module), the J408 is a microprocessor based control panel for small to medium applications.

Each detection zone has an alarm-repeat output for selective management in the event of fire.

The control panel has supervised, silenceable alarm-outputs for self-powered sirens, piezoelectric sirens, fire bells, flashers, telephone diallers, etc.
MAIN FEATURES:


EN54 and EN12094-1 approved (with J400-EXT extinguishment module)
4 (J408-4) controlled, balanced, bypassable input zones
Up to 32 devices can be connected to each zone: conventional fire detectors, alarm buttons, gas detectors
Gas zone compatible with 4 – 20 mA gas detectors
Manual call point recognition
Programmable thresholds
Missing detectors
Day/Night mode
Alarm verification time
Programmable restoral and reset times
One alarm-repeat output (open collector) for each input zone
2 supervised, silenceable, bypassable 24 V alarm output for the activation of piezoelectric sirens, fire bells and flashers
Silenceable, bypassable alarm output, for the activation of 24 V self-powered sirens
Silenceable fault-warning output for the activation of signalling and auxiliary devices
Supervised fire output for telephone dialler activation
Programmable open-collector output
Alarm/fault memory up to next reset
Command for silencing sirens
Keypad commands require key or code
Programmable from PC or keypad
50 events log viewed via PC
RS485 bus for connecting up to 4 repeater panels
TECHNICAL FEATURES:
Power supply: 230 Vac ±10%
27.6 Vdc 1.5 A switching supply/battery-charger
Compartment for two 12 V 7 Ah batteries
Dimensions (wxhxd): 354x280x100 mm
Weight (without batteries): max. 4 Kg
RELATED PRODUCTS